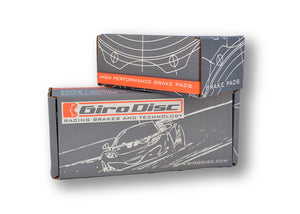 Audi R8, all
Lamborghini Aventador
Lamborghini Gallardo
Lamborghini Huracan, all
The Girodisc S/S or "street/strip" pads represent the ultimate in high performance brake pads.  The semi-metallic compound maintains a consistent coefficient of friction from 0 to 1000 degrees making them an ideal option for people that are looking for a dual purpose pad that will work well on both the street and the race track.  The formula has very little compressibility ensuring a very firm pedal and immediate bite which has made the S/S pads a favorite among people who autocross and those who demand the most out of their street cars.  Inevitably these will dust more than our Magic pads however with the addition of our anti-noise shims that come on every set of pads they will not make any noise if they are bed in properly.